Calendar of Events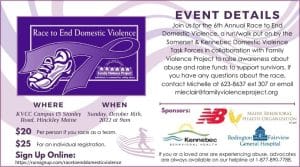 When: SUNDAY, OCTOBER 16, 2022 AT 9 AM
Where:
KVCC – Alfond Recreation Center 15 Stanley Road Hinckley Maine
Sign Up at:
runsignup.com/RacetoEndDomesticViolence
Join us for the 6th Annual Race to End Domestic Violence, a 5k (3.1 miles) run/walk put on by the Somerset & Kennebec Domestic Violence Task Forces in collaboration with Family Violence Project to raise awareness about abuse and resources as well as to raise funds to support survivors!
We are excited to be returning to the KVCC Campus for an in-person event this year! However, if virtual works better for you because of COVID concerns or distance- you have that option as well!!! It is a hybrid event and all are welcome!!
Get your friends and coworkers together to make a team or do it solo. Either way, let's show people who have or are currently experiencing abuse that we see them, we care about them, and we are here for them!
If you are interested in taking part in the 5k, but are being kept back due to finances, please contact Michelle at 623-8637 ext 307 or by email at [email protected]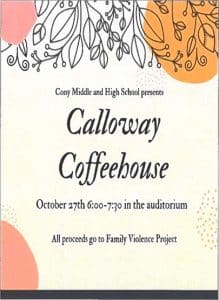 Augusta Vigil for Domestic Violence
On October 27th Cony Key Club is hosting the annual Calloway Coffeehouse. Every year the event raises thousands of dollars for domestic violence prevention in memory of Chellie Calloway. Chellie Calloway died in 2004 after being fatally shot by her husband. Since then, the Cony Key Club, Music, and Art departments have partnered with the Family Violence Project to host this event, to raise awareness of domestic violence and celebrate Chellie Calloway's life. The event will include numerous musical performances and student artwork displays as well as a vigil before the event at 5:00 p.m. This year Nancy Provost will represent the Family Violence Project. She will have a booth set up for information about domestic abuse prevention and have stories of domestic violence victims as part of the Silent Witness Project. This event honors Calloway's memory and brings awareness of domestic violence. We hope you'll be able to join us.