Race to End Domestic Violence 5K
Event Navigation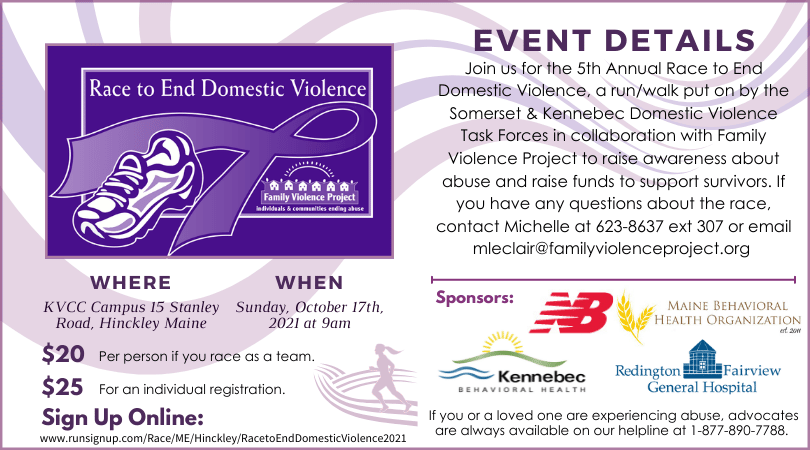 Join us for the 5th Annual Race to End Domestic Violence, a 5k (3.1 mile) run/walk put on by the Somerset & Kennebec Domestic Violence Task Forces in collaboration with Family Violence Project to raise awareness about abuse and resources as well as to raise funds to support survivors!
We are excited to be returning to the KVCC Campus for an in-person event this year! However, if virtual works better for you because of COVID concerns or distance- you have that option as well!!! It is a hybrid event and all are welcome!!
It is $25 for an individual, or $20/person if you are part of a team. This is a great way to start a conversation with your friends, family or coworkers! Whether you do it as a team or on your own, it is a great opportunity to show people who have or are currently experiencing abuse that we see them, we care about them, and we are here for them!
Family Violence Project's mission is to end domestic violence in Kennebec and Somerset Counties. We work to do this by increasing victim safety, empowering survivors, and advocating for social change. If you or a loved one are experiencing abuse, advocates are available 24/7 at 1-877-890-7788 for support, safety planning, and resources.